Description of Witor's Delicia Italian Chocolate Truffles, Holiday Gift Pack, 15.87 oz x 2 Tins
Witor's Delicia Italian Chocolate Truffles
Fine Italian chocolate truffles.
Solid chocolate with smooth and creamy filling.
Made in Italy.
Fine Italian chocolate truffles are packed in beautiful reusable gold and red tin boxes.

The truffles come in four different flavors: milk chocolate truffles with hazelnut filling and crispy cereals; milk chocolate truffles with milk filling and crispy cereals; dark chocolate truffles with cocoa filling; and milk chocolate truffles with caramel filling.

Ready to gift, these boxes can be given separately or together to friends, family, teachers, neighbors and coworkers during the holidays.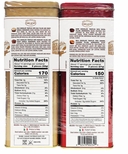 Disclaimer: The statements made, or products sold through this website, have not been evaluated by the Food and Drug Administration. They are not intended to diagnose, treat, cure, or prevent any disease. Actual results may vary significantly and are dependent on individuals. You should always consult with your physician before starting any health products or any health-related programs.