Description of Targeted Choice Urinary Tract Support, Value Size, 60 Vegetable Capsules, Bluebonnet Nutrition
Bluebonnet Targeted Choice Urinary Tract Support
Dietary Supplement.
Flush & Soothe.
Whole Food Based Formula.
To Help Maintain Healthy Urinary Tract Function.
Soy-Free, Gluten-Free, Kosher Certified, Non-GMO, Dairy-Free, Vegan.
Bluebonnet's Targeted Choice Urinary Tract Support Vegetable Capsules are specially formulated with a blend of D-mannose, cranberry fruit extract and identity-preserved (IP) vitamin C along with complementary, sustainably harvested or wildcrafted herbs and botanicals. This soothing maintenance formula helps support a healthy urinary tract by flushing waste from the system and providing a nourishing environment for healthy flora to thrive.

Available in easy-to-swallow vegetable capsules for maximum assimilation and absorption.
Directions:
As a dietary supplement, take two capsules once daily, preferably with a full glass of water (8-12 fl oz) or as directed by a healthcare practitioner.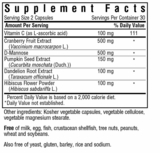 Disclaimer: The statements made, or products sold through this website, have not been evaluated by the Food and Drug Administration. They are not intended to diagnose, treat, cure, or prevent any disease. Actual results may vary significantly and are dependent on individuals. You should always consult with your physician before starting any health products or any health-related programs.