Description of Quaker Mini Delights 90 Calorie Packs, New Variety Pack, 20 Packs (400 g)
Quaker Mini Delights
Bite Sized Light Crispy Multigrain Cakes.
90 Calorie Packs.
20 - 0.7 oz (20 g) Packs.
Net Wt 14.1 oz (400 g).
This box of variety snack packs includes:
8 Bags of Chocolatey Drizzle Mini Delights.
6 Bags of Cinnamon Streusel Mini Delights.
6 Bags of Caramel Drizzle Mini Delights.
Quaker Mini Delights are there for you anytime a snack 911 happens...
Mini Delights are the perfect size to stash or take on the go. With just 90 calories per yummified pack, you can look forward to your next craving - with a little sweet drizzled on top.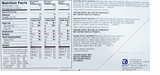 Disclaimer: The statements made, or products sold through this website, have not been evaluated by the Food and Drug Administration. They are not intended to diagnose, treat, cure, or prevent any disease. Actual results may vary significantly and are dependent on individuals. You should always consult with your physician before starting any health products or any health-related programs.