Description of NutriFlora-Pro, Women's Probiotics, 30 Vegetable Capsules, NutriCelebrity
NutriCelebrity NutriFlora-Pro
Women's Probiotics.
Superior Vaginal Care & Urinary Tract Health.
Supports for Daily Well-Being.
10 Billion Colony-Forming Unit.
Helps Maintain Digestive & Immune Systems.
6 Clinically Documented Probiotic Strains.
Probiotic Supplement.
NutriCelebrity NutriFlora-Pro Probiotics for Women - Cranberry Supplement, Supports Vaginal & Urinary Tract Health, Digestive & Immune System Support, 10 Billion CFU Guaranteed, 6 Strains.
Why Choose NutriFlora-Pro?

More effective than other probiotics for women

Nutriflora-Pro is designed with women's unique biology in mind. NutriFlora-Pro potent formula will help support vaginal health by combating yeast infections, easing stomach discomfort, reducing bloating/cramps, and assisting in balancing pH levels. NutriFlora-Pro women's probiotics uses a premium formula of probiotics and cranberry to naturally control your pH levels to ward off infections and balance your life.
Promote your feminine health.
Enhance your body for everyday life.
10 Billion CFU, NON-GMO, no preservatives.
Suitable for vegans/vegetarians.
Proudly Made In The USA in a FDA registered laboratory.
GMP certified facility to provide effectiveness and safety to you.
Suggested Use:
Take 1 capsule per day before or during meals. Does not require refrigeration. Scientific blend safe for use during pregnancy and breastfeeding.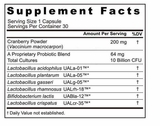 Disclaimer: The statements made, or products sold through this website, have not been evaluated by the Food and Drug Administration. They are not intended to diagnose, treat, cure, or prevent any disease. Actual results may vary significantly and are dependent on individuals. You should always consult with your physician before starting any health products or any health-related programs.