Description of Mrs. Fields Halloween Trick or Treat Cookie Combo Tin
Mrs. Fields Halloween Trick or Treat Cookie Combo Tin
No bones about it, our Halloween tin will have them dancing for joy! Includes an assortment of 36 Nibblers bite-sized cookies, 18 brownie bites, and 2 frosted cookies with buttercream frosting.
Includes:
36 Assorted Nibblers Bite-Sized Cookies
9 Semi-Sweet Chocolate Chip
9 Triple Chocolate Chip
6 White Chocolate Macadamia Nut
6 Cinnamon Sugar
6 Oatmeal Raisin
18 Assorted Brownie Bites
6 Double Fudge
6 Toffee Fudge
6 Butterscotch Blondie
2 Frosted Cookies with Buttercream Frosting
1 Frosted Ghost Cookie
1 Frosted Pumpkin Cookie
Enjoy fresh for up to 10 days or freeze for up to 3 months.

Brownie Bites are packaged as an extra-large brownie bar, slightly scored in bites of six.

Nut Allergies: Due to our dough mixing process, our products may have come in to contact with nut oils.

Rest assured, our baked goods arrive safely packaged in a protective film, which is sealed and secured from contaminants.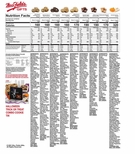 Disclaimer: The statements made, or products sold through this website, have not been evaluated by the Food and Drug Administration. They are not intended to diagnose, treat, cure, or prevent any disease. Actual results may vary significantly and are dependent on individuals. You should always consult with your physician before starting any health products or any health-related programs.