Description of Mega Energy B-Complex Liquid Supplement, 32 oz, Liquid Health
Liquid Health Mega Energy B-Complex
An energy-boosting blend of b-vitamins and key nutrients that supports everything from cardiovascular to endocrine health.
Passion Orange Flavor.
Dietary Supplement.
The Mega Energy B-Complex is a high-quality energy boost supplement designed to provide the body with essential B vitamins for energy production and overall health. This liquid formula contains a powerful blend of vitamins for energy, including all eight B vitamins, which work together to support the body's natural energy production processes.
What's Liquid Health Mega Energy B-Complex?
Liquid Health Mega Energy B-Complex is a liquid supplement that contains a high-potency blend of B-vitamins, including thiamin, riboflavin, niacin, vitamin B6, folate, vitamin B12, biotin, and pantothenic acid, which are essential for energy production, metabolism, and overall health.
How do I take Liquid Health Mega Energy B-Complex?
The recommended serving size for Liquid Health Mega Energy B-Complex is 1 tablespoon (15 ml) per day. You can take it on its own or mix it with your favorite beverage.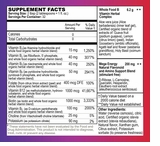 Disclaimer: The statements made, or products sold through this website, have not been evaluated by the Food and Drug Administration. They are not intended to diagnose, treat, cure, or prevent any disease. Actual results may vary significantly and are dependent on individuals. You should always consult with your physician before starting any health products or any health-related programs.