Description of Immune Builder Manuka Honey, MGO 100, 8.8 oz, ManukaGuard
ManukaGuard Immune Builder Manuka Honey
Authentic New Zealand Manuka Honey.
MGO 100.
Drug Free.
Stimulant Free.
Dietary Supplement.
This authentic manuka honey promotes total immune support, supports overall gastric and digestive health, supports healthy gut flora and nourishes the digestive system.
Directions:
Take 1/2 Tsp sublingual one hour before food, one to three times a day. Take small amounts, frequently rather than larger amounts once a day.

Not suitable for children under 1 year.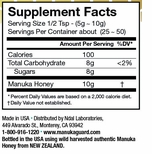 Disclaimer: The statements made, or products sold through this website, have not been evaluated by the Food and Drug Administration. They are not intended to diagnose, treat, cure, or prevent any disease. Actual results may vary significantly and are dependent on individuals. You should always consult with your physician before starting any health products or any health-related programs.