Description of Deodorant Stick, Fresh Fir & Spice, 2.65 oz, Schmidt's Deodorant
Schmidt's Natural Deodorant Stick, Fresh Fir & Spice
Scent: Fresh Fir & Spice - Douglas fir paired with spicy citrus.
GENTLE, ALL DAY ODOR PROTECTION

Schmidt's natural deodorant sticks help neutralize odor and keep you fresh with ingredients like shea butter, coconut oil, and essential oils.
How to Use:
1-2 swipes is all you need for all day protection. Hold product momentarily to skin to soften with body heat.
We say no to aluminum salts, artificial fragrance, propylene glycol, phthalates, and parabens. All our products are certified cruelty-free and vegan.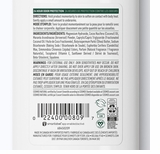 Disclaimer: The statements made, or products sold through this website, have not been evaluated by the Food and Drug Administration. They are not intended to diagnose, treat, cure, or prevent any disease. Actual results may vary significantly and are dependent on individuals. You should always consult with your physician before starting any health products or any health-related programs.