Description of Chaste Tree Berry, 60 Vegetarian Capsules, Vitanica
Vitanica Chaste Tree Berry
Vitex Extract Plus.
Vegetarian Capsules.
Dietary Supplement.
Chaste tree berry, also known as Vitex, is one of the most reliable herbs for young women in their reproductive years, to support a healthy regulated menstrual cycle. For the best of both worlds, our Chaste Tree Berry contains the standardized extract and the pure dried powder of the whole fruit of the Chaste tree plant, a popular and traditional woman's herb.
Suggested Use:
1 capsule daily.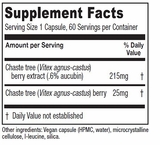 Disclaimer: The statements made, or products sold through this website, have not been evaluated by the Food and Drug Administration. They are not intended to diagnose, treat, cure, or prevent any disease. Actual results may vary significantly and are dependent on individuals. You should always consult with your physician before starting any health products or any health-related programs.