Description of Ashwagandha Root, 120 Vegan Liquid Phyto-Caps, Gaia Herbs
Gaia Herbs Ashwagandha Root
Herbal Supplement.
Traditionally for helping cope with stress in a healthy way.
Helps your body adapt to and cope with life's challenges.
This adaptogenic herb has been revered for over 2,000 years.
A customer favorite for dealing with ongoing stress.
Suggested Use:
Adults take 1 capsule 2 times daily.

Not for use during pregnancy or lactation. If you have a medical condition or take medications, please consult with your doctor before use. Store away from children. Use only as directed on label. Safety-sealed for your protection. Keep bottle capped at all times and store in a cool, dry place. Natural separation may occur. This does not affect product quality.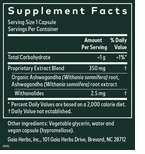 Disclaimer: The statements made, or products sold through this website, have not been evaluated by the Food and Drug Administration. They are not intended to diagnose, treat, cure, or prevent any disease. Actual results may vary significantly and are dependent on individuals. You should always consult with your physician before starting any health products or any health-related programs.