Description of Vitamin C Formula, 100 Tablets, Universal Nutrition
Universal Vitamin C Formula
Dietary Supplement.
For individuals seeking a standard high-dose Vitamins C tablet.
Universal Vitamin C is a water soluble nutrient well known for its vital role in the immune health and is a highly effective antioxidant that can protect the body's cells from damage by free radicals among other things. Our Vitamin C Formula contains 500mg of pure crystalline ascorbic acid in an easy-to-swallow tablet.
Directions:
As a dietary supplement take 1 tablet daily or as directed by a healthcare professional.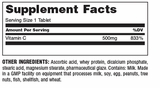 Disclaimer: The statements made, or products sold through this website, have not been evaluated by the Food and Drug Administration. They are not intended to diagnose, treat, cure, or prevent any disease. Actual results may vary significantly and are dependent on individuals. You should always consult with your physician before starting any health products or any health-related programs.