Description of Ocuguard Blutein Adults Gummies, 60 ct, TwinLab
TwinLab Ocuguard Blutein Adults Gummies
Protect your eyes from damaging blue light.
With clinically tested Lutemax 2020 for digital eye health.
Tasty raspberry flavor.
The average adult spends 10.5 hours a day on digital devices. However, just 2 hours a day of digital device use can lead to headaches, eye strain, blurred vision, back pain, and dry eyes. What¡¯s more, this constant exposure can cause irreversible retina damage. Twinlab blutein Gummies are here to provide a nutritional filter against damaging blue light in the form of two tasty gummies a day.
Suggested Use:
Take 2 gummies daily. Chew thoroughly before swallowing.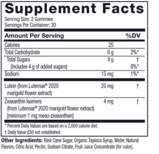 Disclaimer: The statements made, or products sold through this website, have not been evaluated by the Food and Drug Administration. They are not intended to diagnose, treat, cure, or prevent any disease. Actual results may vary significantly and are dependent on individuals. You should always consult with your physician before starting any health products or any health-related programs.